Our Story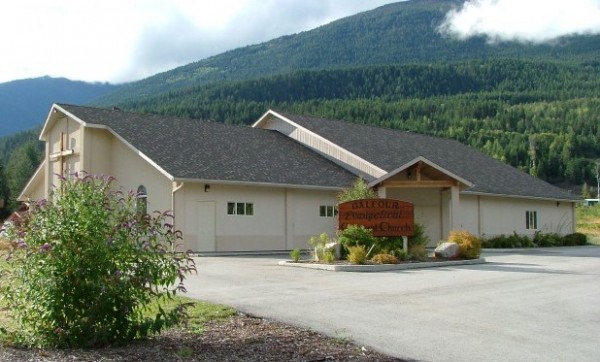 The Balfour congregation began in 1996, as Nelson congregation members who lived on the North Shore had a vision for a church in their community. Several families were commissioned to begin a work in Balfour, and services commenced in the Balfour Community Hall. The work grew and, after 4 years, land was purchased on Upper Balfour Road, a church was designed and construction began in November of 2000. Over that winter our own people, as well as many volunteers from the community, worked side-by-side building the first church in Balfour in over 100 years. The opening service was held in the new sanctuary on Easter Sunday, April 15th, 2001.
Since that time, the congregation has grown and we strive to be a welcoming, caring church reaching out to our community. Our services reflect the rich Christian heritage our people come from, as we offer a blend of traditional and contemporary worship styles, followed by Bible centered messages. We offer Sunday School for kids of all ages, weekly Bible study through several small groups and special functions at various times of the year to bring our congregation and community together. Because of our central location, our building has been the first choice for several health and community-related functions on a continuing basis.
In 2009, God led Pastor Jason Ashley and his wife, Tracy, to become part of the ministry team of the Nelson Evangelical Covenant Church. Pastor Jason is an Associate Pastor with primary responsibility for the Balfour congregation. Jason, Tracy and their son's Korban and Shalem, live in the Balfour community and are available at any time to interact with the needs of the congregation or community.
Our church looks forward to the future and influencing our area for Christ. We are blessed to have people regularly worship with us who are from several surrounding communities.
Our mandate: "to be a light set on a hill that no one can miss…"
Location & Time
Balfour Covenant Church 7741 Upper Balfour Rd. – Sunday Morning at 9:30 AM