Kids Camp - Monumental VBS 2022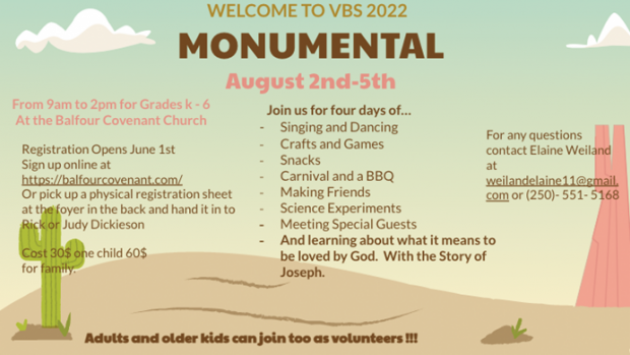 WHERE IS IT?
Balfour Covenant Church
7741 Upper Balfour Rd., Balfour
WHEN IS IT?
Aug 2th to 5th from 9:00 to 2:00
WHO CAN COME?
K - Grade 6 Students from our local area. You must pre-register.
WHY?
Because everyday promises to be a day filled with new friends, fabulous fun and great adventures!
REGISTER ONLINE HERE:
Note: Space is limited so sign up now. If you have any questions, please contact Elaine Weiland at weilandelaine11@gmail.com or (250)-551-5168.